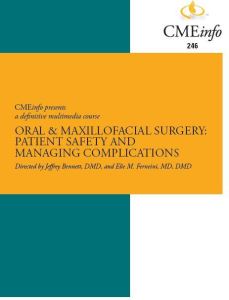 Publisher : 
Description :     
Oral and Maxillofacial Surgery – ­ Patient Safety and Managing Complications is a review of patient safety, anesthetic complications, legal aspects, pain management, evidence-based antibiotic practice, cone beam technology, and 3D printing. The course also highlights best practices for managing complications and improving outcomes to help you better:
Confront challenging issues in oral and maxillofacial surgery
Understand a variety of topics, such as dentoalveolar complications, anesthetic complications, complications in dental implants, maxillofacial trauma, cosmetic surgery, TMJ surgery, etc.
Apply the new information into your daily practice to improve management decisions and patient care
Topic /Speakers : 
Patient Safety in Oral & Maxillofacial Surgery – Jeffrey Bennett, DMD
Anesthetic Complications – Deepak Krishnan, DDS, FACS

Legal Aspects Pertaining to the Management of Patients – Christy B. Durant, Esq.
Prescribing Controlled Substances, Pain Management, and the Opioid Epidemic – Paul Moore, DMD, PhD, MPH
Patient Safety in Antibiotic Therapy and Infection Management – Thomas Flynn, DMD
Navigational Surgery and Virtual Surgical Planning: Its Applications in Oral and Maxillofacial Surgery – Jasjit K. Dillon, DDS, MBBS, FDSRCS, FACS

Dentoalveolar Complications – Gregory Ness, DDS
Complications in Dental Implants – Peter Moy, DMD
Complications in Orthognathic Surgery – William Bradford Williams, DMD, MD
Complications in Reconstructive Surgery – Srinivasa R. Chandra, MD, BDS, FDSRCS (Eng)

Complications in Maxillofacial Trauma – David Powers, DMD, MD, FACS, FRCS (Ed)

Complications of TMJ Surgery – Pushkar Mehra, DMD, MS, FACS, and Eber Stevao, DDS, MSc, PhD
Complications in Craniofacial Surgery – Jennifer Woerner, DMD, MD, FACS

Complications in Minimally Invasive Facial Cosmetic Surgery – Elie Ferneini, MD, DMD, MHS, MBA, FACS
Complications of Cosmetic Surgery – Mo Banki, MD, DMD, FACS
Download