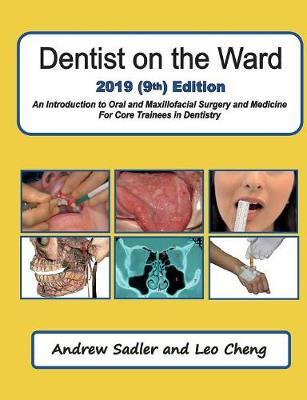 Andrew Sadler
Six chapters have been revised for the 2019 edition of Dentist on the Ward to keep it up to date with the innovations and changes in hospital healthcare which impact on Oral and Maxillofacial Surgery.
Written for recently qualified dental surgeons and students Dentist on the Ward provides a concise introduction to the speciality and most of the conditions managed by Oral & Maxillofacial Surgeons in the UK. This includes the commonest Oral Medicine problems. It will be useful to those preparing for undergraduate and non-specialist post-graduate dental examinations.
The text provides essential information for the new dentally qualified recruit on hospital procedures and practical tasks which they will have to carry out. Background clinical information which relates to the work they will do is presented in an uncomplicated and concise format. The book has been designed so that most of its 52 chapters can be read in less than 20 minutes. The chapters on medical subjects contain most of the information a dentist should need to know.
Dentist on the Ward is written by two Consultant Oral and Maxillofacial Surgeons with decades of experience in supervising and teaching young dentists working in their departments. It simplifies the essential surgical and medical knowledge needed for hospital work.

Download