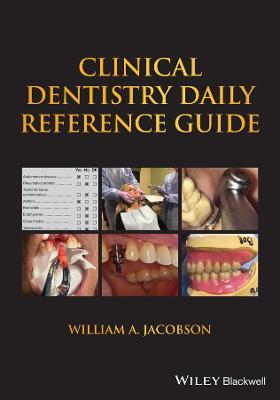 W Jacobson
CLINICAL DENTISTRY DAILY REFERENCE GUIDE The first and only practical reference guide to clinical dentistry
Clinical dentistry involves the practice of preventing, diagnosing, and treating patients' oral health conditions. Clinical Dentistry Daily Reference Guide is a one-stop resource loaded with critical information for day-to-day decision making regarding a myriad of clinical scenarios. This invaluable resource saves time by eliminating the need to search through websites, textbooks, and phone apps to find answers.
This book offers step-by-step assistance on health history treatment modifications, oral cancer screening, radiographic interpretation, treatment planning, preventive dentistry, periodontics, operative dentistry, endodontics, oral surgery, toothaches, crown and bridge, dentures, partials, implant crowns, occlusal guards, pharmacology, pediatric dentistry, nitrous sedation, and more.
This comprehensive guide:
Provides quick access to information in an easy-to-read bulleted format
Includes hundreds of high-quality clinical images, illustrations, and tables
Answers real-life patient questions
Contains procedural steps including post-operative instructions, lab prescriptions, troubleshooting, and clinical pearls
Features alphabetized medical conditions and treatment modifications, evidence-based guidelines including the dental traumatology guidelines, tables of common medications converted to pediatric dosages, and more.
Helps dentists gain confidence in their decision making
Clinical Dentistry Daily Reference Guide is a must-have book for all dental students and practicing dentists, both new and seasoned. Other dental professionals that will benefit from this book include dental educators, expanded function dental assistants, and dental hygienists.

Download